What type of hosting is required for my app ?
Self-hosting
is the practice of running and maintaining a website using a private web server, instead of using an
externally-hosted
website. For example, someone wishing to write a blog could use hosted blog services. Alternatively, they could install content management system software on their own server to self-host their blog.
When you hear that you should spend more money to pay for a web hosting service, rather than using free or self-hosting, you probably feel a little skeptical.
What's Better: Professional Web Hosting or Self-Hosting ?
The answer to this question lies in your sensitivity to your data. At
weopensoft
we offer both solutions whose implementation is very much simplified for users.
We do not want to enter into the debate of the pros and cons of the type of hosting because the subject is already quite enlightened on the web but to offer you support according to your choice.
Weopensoft X-hosting vs Others

The solution we propose is quite different from traditional procedures. Indeed we set up in the form of e-commerce a catalog of applications and open-source services whose installation could be carried out on your own server or on our cloud.
After studying some self-hosting solutions, we want to offer a much freer and more flexible solution. In a few examples the disadvantages that we have noted.
Younohost : Need some technical prerequisites for the installation (open a console, type a command line, proceed with the initial configuration, run the initial diagnosis...). Despite the diversity of installation media (VirtualBox, Raspberry Pi, ARM board, Regular computer, Remote server) this solution is still too technical.
FreedomBox : Another self-hosting service that require technical skills
What about Weopensoft X-hosting
The previous solutions respond very well to the idea of ​​self-hosting even if they still suffer from a side that they are still too technical for some end users.
In the ambition to globally simplify access to open source applications for companies and individuals, we have thought of a 5-step solution :
- A domain name to fit your brand. Cloudflare, OVH, Scaleway, Gandi...

- A server accessible from the internet : At your home or from a supplier OVH, Scaleway, Gandi, Hetzner

- Link your domain name service with server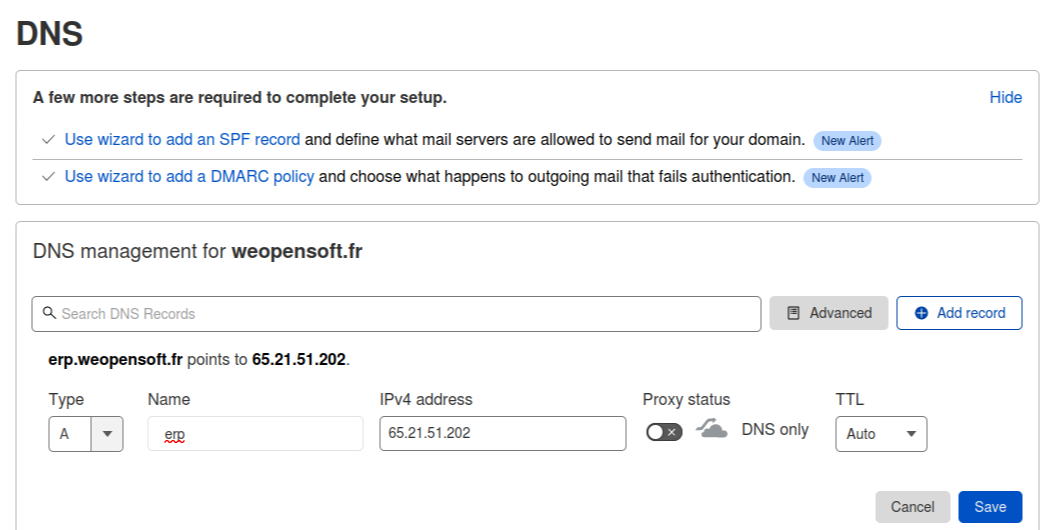 - A install your service with weopensoft-shop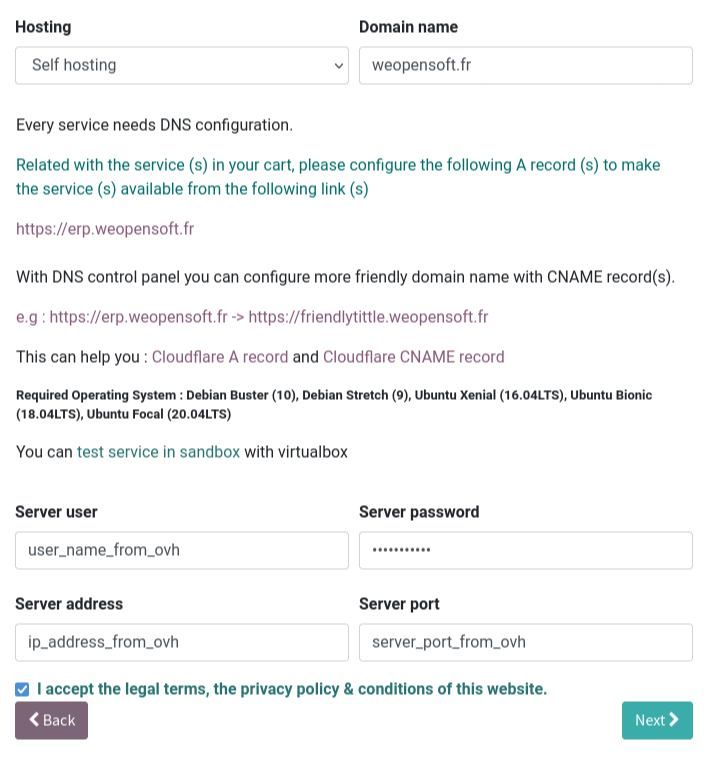 That is all for deploy your apps !